It is very difficult to apply for and pass the UK CTDA approval process, the manufacturers who has obtained MHRA registration for novel coronavirus products need to reply within the specified time: whether they are willing to participate in the CTDA approval process, and they can only be launched in the UK as normal after passing CTDA approval process, otherwise the MHRA registration will be revoked. There are only 7 domestic approved companies for novel coronavirus antigen reagent have successfully obtained CTDA registration, and Beijing Jinwofu Bioengineering Technology Co., Ltd is one of them.

The successful registration of CTDA fully proves that Jinwofu's products are of high quality and the enterprise strength is strong.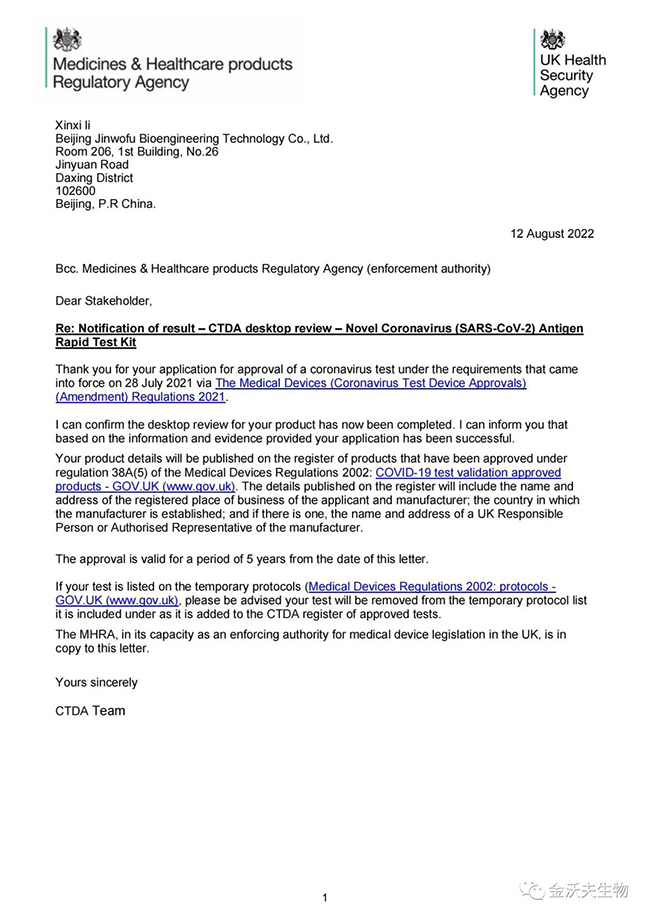 What is the significance and value of the CTDA approval?
From April 1st, 2022, the UK has announced the end of free covid-19 nucleic acid testing for all, this move is bound to increase great demand of covid-19 antigen self-test kit in the UK market.
While early at March 21st, 2022, the UK government website has announced 3 purchase orders for covid-19 antigen testing reagents totaling about 7.7 billion yuan, respectively purchasing self-testing products of 595 million pounds (about 50 billion yuan), 237.8 million pounds (around 20 billion yuan) and 85.1 million pounds (around 700 million yuan) from domestic covid-19 manufacturer.
It can be seen that the British covid-19 testing market is attractive, coupled with the difficulty and irreplaceability of covid-19 testing products through CTDA approval, and fewer companies passing CTDA approval means that there is less competition in this market, and Jinwofu will compete in the UK market in the future with great advantages.
With gradual opening up of global epidemic prevention and control policies, the high-quality self-testing products will play an important role in the normalized epidemic prevention and control.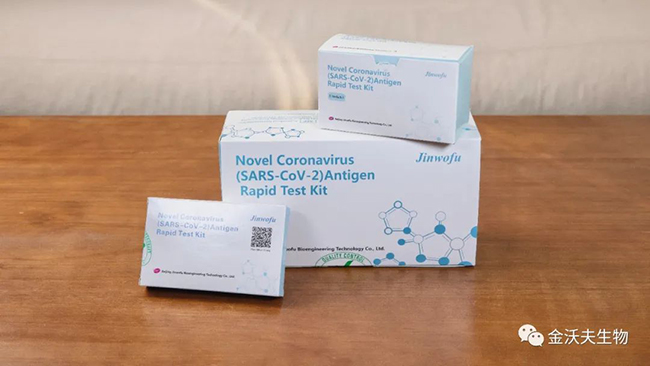 Jinwofu antigen detection products have s stable user group at home and abroad, including medical system testing, centralized testing in high-risk industries, home self-testing and other applicable testing methods, supporting a variety of specifications. EU certification sensitivity: 96.88%; Specificity: 100%. High sensitivity and high specificity guarantee the accuracy of the test results.
---
Post time: Mar-01-2023